How to Get Into the Cryptocurrency Jobs Market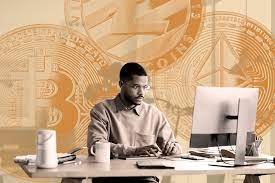 Cryptocurrency is one of the fastest-growing industries worldwide, and companies are always on the lookout for talented individuals to keep up with its rapid expansion.
Crypto jobs range from technical to non-technical, providing plenty of opportunities for those interested in this field.
For instance, if you're interested in becoming a financial analyst, your skills could be put to use monitoring cryptocurrency values and making investment predictions. Furthermore, job opportunities exist as project manager, community manager or content writer.
Cryptocurrency Developer
Cryptocurrency developers specialize in creating blockchain applications and helping companies launch new cryptocurrency tokens, ICOs, and DApps. Their tasks range from crafting smart contracts to adding features to existing projects as well as fixing bugs.
They can also ensure the security of blockchain networks by analyzing network protocols and applying security patches as required. Strong computer programming abilities and expertise in cryptography are necessary for this role.
The blockchain is a digital ledger that records all cryptocurrency transactions and provides transparency. This differs from traditional payment methods which are controlled by centralized entities.
A core blockchain developer lays the groundwork for a system, on which others build. This role necessitates strong technical abilities and expertise with various platforms and programming languages.
Crypto developers work in a range of fields, such as financial services, technology and government. Their tasks may involve researching, designing and implementing blockchain solutions for specific product hardware or technical service lines; additionally they may operate computers which process and record blockchain transactions.
Cryptocurrency Journalist
Cryptocurrency journalists are experts who write about cryptocurrency, blockchain technology and related subjects. Their mission is to give readers information and updates on the most recent events within the industry.
These individuals are usually well-known writers with an adeptness at conveying their messages clearly and concisely. They possess experience writing for various platforms such as emails, blogs, white papers, case studies and social media posts.
They possess an in-depth knowledge of blockchain technology and can communicate persuasively about it. Furthermore, they assist in crafting secure yet user-friendly crypto applications that are resistant to hackers.
Some of the top cryptocurrency journalists possess years of expertise and coverage on topics ranging from blockchain technology to ICOs. Additionally, they've written for some of the industry's biggest names like Forbes, MoneyBeat and Business Insider.
Cryptocurrency Analyst
If you want to become a cryptocurrency analyst, there are various routes you can take. These include receiving training in coding or learning about crypto trading, taking online courses, and networking with industry professionals.
Cryptocurrency analysts are responsible for researching, analyzing and forecasting the behavior of the crypto market. They consider various variables like price trends, trading volumes, supply and demand dynamics, events and insights to make their predictions accurate.
They must possess an in-depth knowledge of both traditional and crypto investments, as well as macroeconomic trends. This allows them to make accurate forecasts about future price movements on the crypto market and guarantee their clients' portfolios are managed appropriately.
They must remain informed on the most recent events and news in the crypto world, especially for those working within this field, since information is constantly shifting.
Cryptocurrency Market Analyst
Cryptocurrency market analysts assist investors in making informed decisions by examining a range of data. They may use technical analysis to spot trends and patterns in market sentiment. Furthermore, they employ fundamental analysis to examine the underlying economics behind a coin or project.
Additionally, they might research the market for emerging cryptocurrencies or promising ICOs. These individuals could work at a newspaper or magazine, for a company selling products related to crypto, or even for a website specializing in covering these markets.
As a cryptocurrency market analyst, you'll spend most of your time conducting research and creating reports. You must possess strong analytical abilities as well as the capacity to communicate trends to executives at work. Furthermore, you could potentially be responsible for recommending investments to clients, devising investment strategies (like when to buy or sell), and assessing risks.