Using 1 minute scalping strategy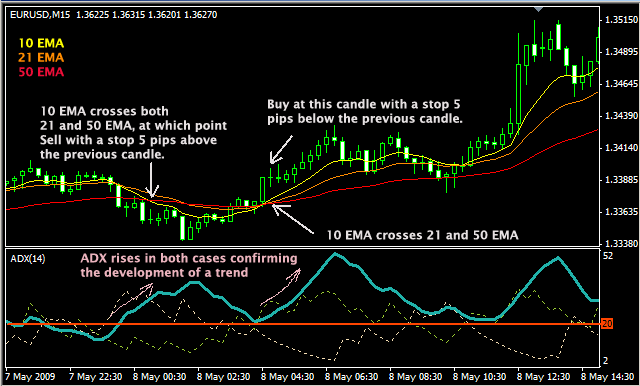 Forex trading is divided into several types. One of the most anticipated types of Forex trading is known as scalping. Most of the books tell beginners that such trading type is useful and able to bring higher returns as other ones. But is Forex 1 minute scalping strategy is still useful for everybody?
Minute scalping strategy description
When compared to other best Forex strategies, this one looks rather simple and fast. Most of the beginners suppose that this strategy does not require deep analysis and long hours spent in front of the chart. But newcomers are mistaken, it requires deep analysis and will never allow you to get daily profits in just a few minutes.
But, from the point of view of professional traders, Forex 1 minute scalping strategy can still be profitable if implemented correctly. In order to be implemented correctly, it requires knowledge of how EMA and Stochastic indicators are working. In case the person without basic knowledge about these indicators decides to implement scalping trades, the results will not be as profitable as expected. In most of the cases, such person will experience losses and will switch to another FX trading technique.
Is scalping strategy still useful?
Due to the development of more complex indicators and new analysis techniques, the amount of traders that use scalping trading dropped over the last few years. Additionally, such trading style is considered useful for people of a young age, since it requires deep concentration and fast reaction. Moreover, since most of the FX brokers offer questionable spreads, it has become more difficult to make money using FX scalping strategy.
But, even though, there are some more profitable trading techniques, Forex 1 minute scalping strategy can still be applied to currency trading and is able to bring decent returns. Traders have to remember, that new strategies are mostly built on the basis of the old ones but with implementation of some additional indicators and things that have to be taken into account.
Of course, it is not recommended to use FX scalping techniques in times when major news are coming or volatility cannot be predicted. This strategy can be used by both newcomers and experienced traders. Bear in mind that it still requires time spending with analysis and charts. It will not bring you everything in one minute. But if you trade using this technique for 2-3 hours per day, you will be able to receive decent profits and enjoy your trading style.